Certified organic
Intimate gels and lubricants
Discreet package
without mention of the brand
after-sales service
available 7 days a week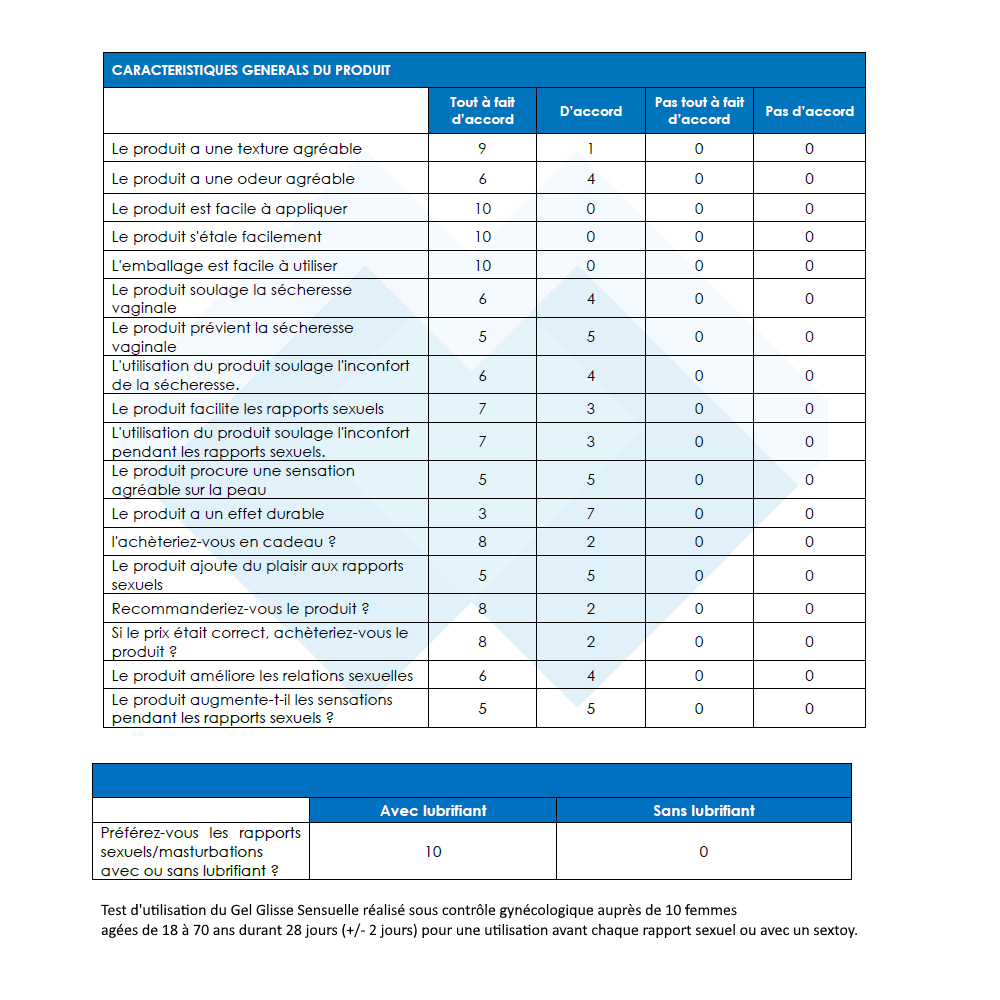 Gel Glisse Sensuelle – The certified organic natural lubricating gel
Experience new pleasures with GOLIATE Certified Organic Natural Lubricant. This long-lasting lubricant will moisten your intercourse for more enjoyment.
check_circle In stock
cancel Sold out
Free delivery — on all orders from 35 €!
Organic certified cosmetics
Is Sensual Glisse Gel edible?

Yes, the natural lubricant is completely edible. Once applied to the skin, you can kiss and lick it without any risk.

Is this natural intimate cosmetic compatible with condoms?

Yes ! All water-based lubricants, such as Sensual Glisse Gel, or Anal Glisse Gel, are compatible with condoms. An oil-based lubricant would make the condom porous and therefore not compatible.

How to use a lubricant with a condom?

One of the main criticisms of condoms is that they can take away some of the fun of sex, but adding a little lube inside can have the opposite effect. A drop or two of lubricant in the end of the condom before putting it on can increase sensation.

Is Sensual Glisse Gel compatible with sex toys?

The natural lubricant is compatible with all sex toys made of silicone, which is the case with GOLIATE sex toys.

Why is Saliva not a Lubricant?

Saliva is natural, cheap, always available and compatible with condoms. The problem is that it does not lubricate. It dries quickly by drying out the mucous membranes: its effect fades quickly for a slightly sticky and irritating sensation. With a serious risk of transmitting microbes and viruses, such as herpes. Saliva is therefore a terrible lubricant for any vaginal practice.

What about sperm if I want to get pregnant?

It's no problem to use sensual glide gel during your cuddles if you want to get pregnant. Indeed, the lubricant is completely natural and does not contain any spermicide. Its pH is also adapted to the intimate area. Do not hesitate to consult your doctor or gynecologist for more information.

Where does the water used in the lubricant come from?

The water used in the natural lubricant Sensual glide gel but also in all our pleasure cosmetics is spring water from the Pyrenees in order to ensure the best possible quality of the products.

Why is there 0.51% of the product that is not natural?

Sensual Glide Natural Gel Lubricant is water-based. In order to preserve the benefits and ensure your safety, it is essential to use a minimum threshold of preservatives (accepted by the Cosmos Organic specifications). This is also why GOLIATE Sensual Glide Gel offers an Optimal Use By Date (DLUO) of 18 months unlike other lubricants which may offer a longer DLUO, but at the cost of unnatural preservatives more present in the formula.

What is the difference between synthetic glycerin and organic vegetable glycerin?

The difference is indeed size. Synthetic glycerin is produced from petroleum, while the organic vegetable glycerin used in Sensual Glide Gel is produced from vegetable oils. Organic vegetable glycerin is a very effective moisturizing active ingredient whose properties bring softness and suppleness to the skin, while strengthening the skin barrier and the water balance.

What's in our formulas?

We have opted for transparency. This is why and although it is not legally necessary, our ingredient lists are also translated into French. But as the names of ingredients can sometimes seem very complex for an uninformed public, here is what you will find in our gels and lubricants: spring water from the Pyrenees and first cold-pressed organic vegetable oils. Emulsifiers of natural origin without palm oil and non-irritating. Plant extracts and organic macerates made by us with the plants we harvest. Then we use mineral filters guaranteed without nanoparticles, essential oils and natural gums or algae, all organic. To continue you will also find preservatives accepted by the Cosmos Organic specifications. And finally dyes of mineral or vegetable origin only. In summary, only natural respectful of the body and the planet.

Avis client
Excellent produit Texture très agréable, ne sèche pas en 2 minutes, ne colle pas. Vraiment très heureux de cet achat
Avis client
Très agréable et l'odeur est tres subtile... Pas de senteur chimique. Que du naturel. Je le recommande.
Avis client
Pour le plaisir trés bon produit
Avis client
parfait sa glisse ^^ trés bon produit