Certified organic
Intimate gels and lubricants
Discreet package
without mention of the brand
after-sales service
available 7 days a week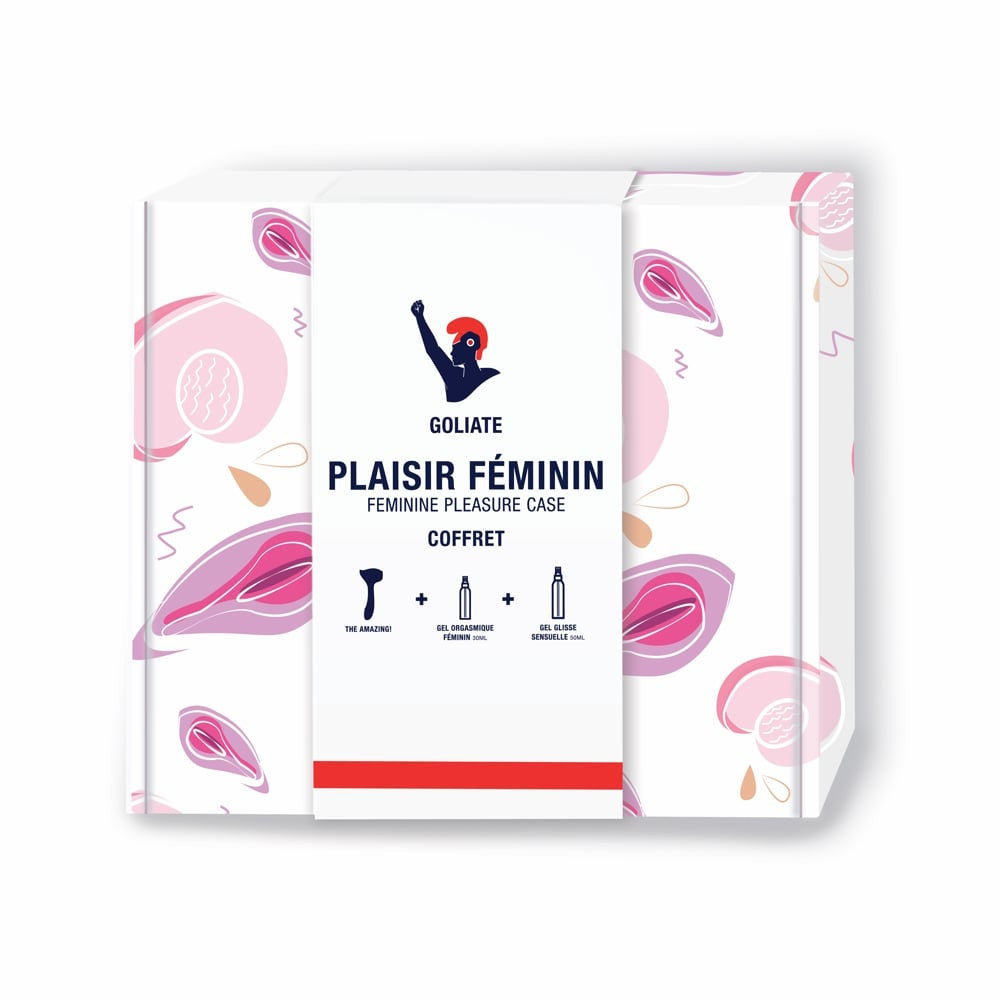 Price
Sale price
109,00 €
Unit price
by
The clitoris is the organ of feminine pleasure par excellence, so GOLIATE offers you a box dedicated to its stimulation and pleasure. We designed it to awaken your senses and help you discover new sensations (and new orgasms!)
check_circle In stock
cancel Sold out
Free delivery — on all orders from 35 €!
Organic certified cosmetics
The Amazing clitoral stimulator! is it only for solitary pleasure? Can I use it with a partner?

Our The Amazing! Can be used solo or with a partner! Your imagination is the only limit to your enjoyment.

Is Sensual Glisse Gel natural lubricant compatible with condoms?

Yes ! All water-based lubricants, such as Gel Glisse Sensuelle, are compatible with condoms. An oil-based lubricant would make the condom porous and therefore not compatible.

Are the Feminine Orgasmic Gel and the Sensual Glisse Gel compatible with pregnant women?

Sensual Glisse Gel is compatible with pregnant women. On the other hand, we do not recommend that pregnant women use the Female Orgasmic Gel because it is notably composed of essential oils.

Can I use The Amazing! In the shower ?

You can take your clitoral stimulator with you in the shower. However, use in the bath is not recommended, this habit could damage your sex toy.

How to use a lubricant with a condom?

One of the main criticisms of condoms is that they can take away some of the fun of sex, but adding a little lube inside can have the opposite effect. A drop or two of lubricant in the end of the condom before putting it on can increase sensation.

What's in our formulas?

We have opted for transparency. This is why and although it is not legally necessary, our ingredient lists are also translated into French. But as the names of ingredients can sometimes seem very complex for an uninformed public, here is what you will find in our gels and lubricants: spring water from the Pyrenees and first cold-pressed organic vegetable oils. Emulsifiers of natural origin without palm oil and non-irritating. Plant extracts and organic macerates made by us with the plants we harvest. Then we use mineral filters guaranteed without nanoparticles, essential oils and natural gums or algae, all organic. To continue you will also find preservatives accepted by the Cosmos Organic specifications. And finally dyes of mineral or vegetable origin only. In summary, only natural respectful of the body and the planet.

What you will never find in the formulation of GOLIATE intimate cosmetics?

For starters: mains water. Hydrogenated oils, esterified or derived from PEG or silicone petroleum. Palm oil-based emulsifiers, synthetic actives or texturizers. Synthetic perfumes, parabens or phenoxyethanol. Formaldehyde, or chlorinated derivatives and finally synthetic dyes.

Avis client
Ce coffret m'a été offert par mon copain. Le sextoy "Amazing" est MA-GI-QUE ! Le gel orgasmique pour le clitoris très surprenant, j'ai beaucoup aimé l'effet procuré ! Et le lubrifiant (bio, composition impeccable) est devenu notre indispensable.
A offrir ou pour se faire plaisir les yeux fermés !